Mo Farah has been nominated for World Sportsman of the Year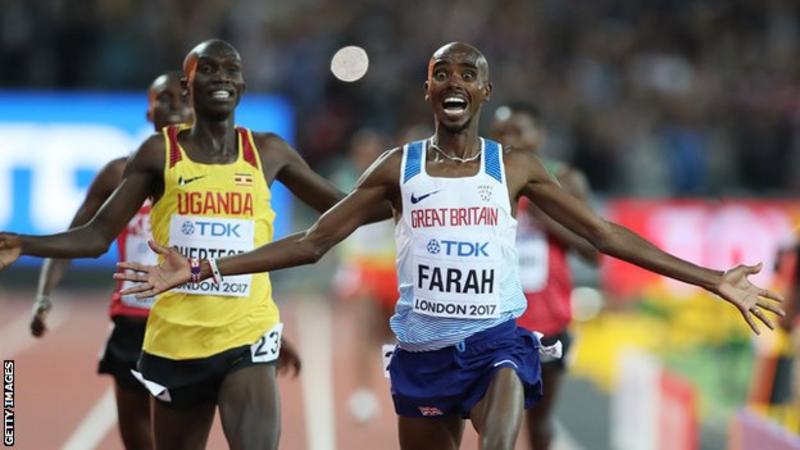 Four-time Olympic champion Mo Farah was nominated for its 2017 Laureus World Sportsman of the Year award.
Farah, who was called BBC Sports Personality of the Year in December, is one of four British nominees.
Four-time Tour de France winner Chris Froome and Formula 1 world champion Lewis Hamilton are also in contention for Sportsman of the Year.
World heavyweight boxing champion Anthony Joshua is nominated at the Breakthrough of the Year category.
The Bradley Lowery's friendship with Jermain Defoe is also recognised on the finest Sporting Moment shortlist.
Six-year-old Lowery seized the hearts of this nation as he battled a rare form of cancer, and posthumously received the Helen Rollason Award at the BBC Sports Personality of the Year show.
Teenage racing driver Billy Monger – that lost his legs – is nominated in exactly the same class .
Talking on his nomination, Farah said: "2017 had been still an extraordinary year for me personally.
"I am overwhelmed with all the support and recognition I have already obtained but winning a Laureus statuette will be amazing. It would be even more particular given the super talented sportsmen I am against."
Farah retired out of the course in 2017 after winning 10,000m World Championship gold in August, but will operate in this year's London Marathon. Four-time Tour de France champion Froome – who is currently facing questions after coming an "untoward" drugs test – was nominated after getting the first British winner of the Vuelta a Espana.
Lewis Hamilton won his Formula 1 domain name, while the IBO, WBA and IBF heavyweight titles were unified by Joshua.
Chapecoense – the Brazilian football club that lost the majority of their team at a plane crash at 2016 – are nominated at the Comeback of the Year category.
The winners, as voted for by members of the Laureus World Sports Academy, will be shown in Monaco on 27 February.
Roger Federer (Switzerland) tennis, Cristiano Ronaldo (Portugal) football, Mo Farah (GB) sports, Chris Froome (GB) cycling, Lewis Hamilton (GB) Formula 1, Rafael Nadal (Spain) tennis.
Sportswoman of the Year award
Garbine Muguruza (Spain) tennis, Caster Semenya (South Africa) sports, Serena Williams (US) tennis, Allyson Felix (US) sports, Katie Ledecky (US) swimming, Mikaela Shiffrin (US) alpine ski.
Group of town
France's Davis Cup team (tennis), Golden State Warriors (basketball), Mercedes-AMG Petronas (Formula 1), New England Patriots (American football), New Zealand's America's Cup team (sailing), Real Madrid (football).
Breakthrough of town
Anthony Joshua (GB) boxing, Kylian Mbappe (France) football, Jelena Ostapenko (Latvia) golfing, Sergio Garcia (Spain) golfing, Giannis Antetokounmpo (Greece) basketball, Caeleb Dressel (US) swimmingpool
Comeback of the Year
FC Barcelona (Spain) football, Roger Federer (Switzerland) tennis, Valentino Rossi (Italy) motorsport, Sally Pearson (Australia) sports, Justin Gatlin (US) sports, Chapecoense (Brazil) football.
Sportsperson of the Year with a Disability
Marcel Hug (Switzerland) para sports, Yui Kamiji (Japan) wheelchair tennis, Oksana Experts (US) cross-country ski, Bibian Mentel-Spee (Netherlands) snowboarding, Jetze Plat (Netherlands) ironman, Markus Rehm (Germany) extended jump.
Action Sportsperson of town
Tyler Wright (Australia) surfing, John John Florence (US) surfing, Anna Gasser (Austria) snowboarding, Mark McMorris (Canada) snowboarding, Nyjah Huston (US) skateboarding, Armel Le Cleac'h (France) sailing.
Best Sporting Moment of the Year
The Iowa Hawkeyes and the 'Kinnick Wave' (US) American football, Bradley Lowery and his unique bonding with Jermain Defoe (GB) football, Kimi Raikkonen and his six-year-old fan Thomas Danel (Finland) Formula 1, Chapecoense (Brazil) football, Billy Monger (GB) motorsport.